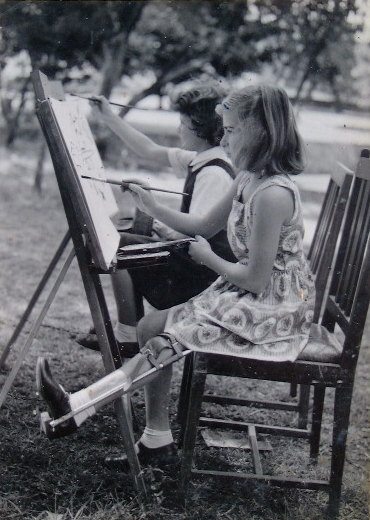 Born in Dar es Salaam, Tanzania, Christina spent her childhood years in East Africa, moving with her family to Portugal at the age of twelve. At sixteen she set off for England to Study Art.
After leaving Wimbledon Art School she worked in various offices in the building trade including an architect's firm and later, spent several years making reproduction glass paintings for a private company.
Christina opened her first shop in 1978 in London with two other artists. She made decorative painted mirror frames, painted furniture and other objects. When her friends moved on, she started doing bespoke picture framing and gradually built up a thriving framing business and Gallery known as Outlines. She moved home, business and studio to North Devon in 2005.
As well as running her Picture Framing business Christina has made paintings and prints, illustrated books and painted murals.
Her many subjects include life studies, landscapes, still life and animals utilising various styles to achieve striking artworks.
She is excited by many different media and enjoys nothing better than to learn something new.