Recent paintings are dominated by beautiful Daffs at my studio.
Long winter nights have often been followed by bright days with spring-like weather that have encouraged plants to grow early. Some are knocked back by morning frosts but it's amazing how so many recover.
Daffodils seem to come through well and their stubborn resilience is inspiring in everyday life, and now they are inspiring me as subjects for three paintings.
Tomatoes with Daffs
A visit to a neighbour provided inspiration in the shape of a hand-made bowl full of tomatoes. It struck me that it might be humerous to put the daffs and toms in one painting, as the news was awash with warnings about fresh food and flower shortages in some supermakets.
The painting of a full bowl of tomatoes and a spray of daffs from the garden emerged from the idea and bright colours were the natural choice for an optimistic picture of plenty.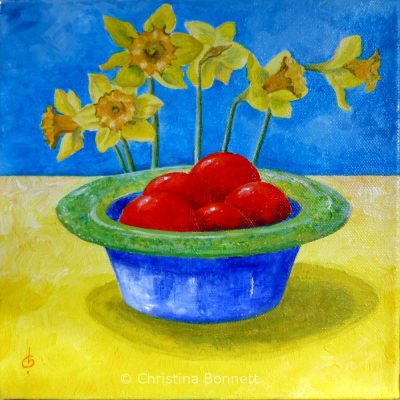 Although we have not yet planted our tomatoes, I wanted to present a cheerful view of the season to remind us to be happy with our lot and appreciate everything in our own garden.
Painting the daffodils in the background made me want to do more with them as a main feature and I went on to paint them again.
Flamboyant Daffodils
Keen to show the sheer exuberance of these gorgeous scented flowers the second painting of a bunch of daffs in a glass jug was in a much looser style.
Starting with areas of colour, I was not too concerned about being precise and I filled the canvas with blues and yellows with broad gestures of the arm and brush. As I began to look closely to add detail I was reluctant to cover the joyful rendering and decided I would simply draw the daffs shapes on top of the colour.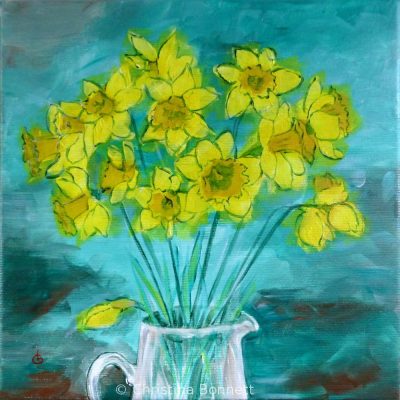 With touches of dark and light, the jug began to look livlier and soon I thought I had done enough to make a joyful celebration picture of these lovely daffodils.
Drawing One Daffodil with Abstract Patterns
I like to provide examples of different styles that can be painted with my 'Outlines' acrylic paints and I had covered a third canvas with leftover colours. The colours were strong and lent themselves to some 'pattern' treatment but how shall I incorporate my daffodils this time?
The sketching was still in my fingers and I made a pale area that could take a drawing and just started painting. I was not sure how it would turn out and let it choose it's own course as I went, taking the drying time between coats to contemplate the next stage.
I drew a single flower with my brush, one daffodil in the pale area and it seems enough. This canvas was challenging to balance but I enjoy the contrasts of pale and strong colours.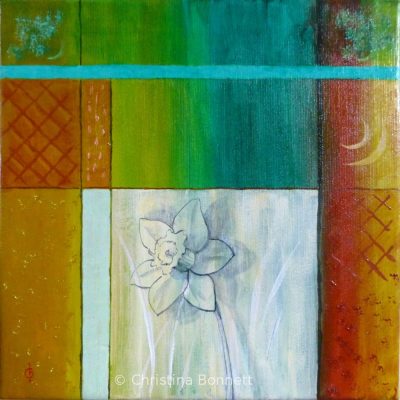 The drying time between coats made it easy to remember to take photographs and the result is that I can demonstrate several techniques in one painting. I shall write them on the Outlines Art website.
The pictures together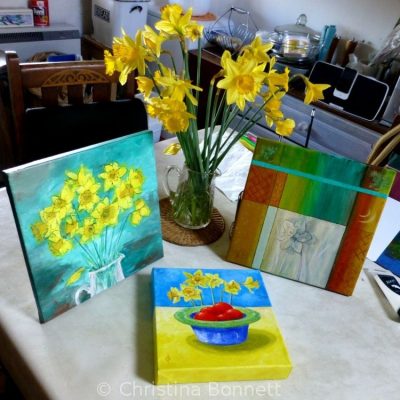 All these paintings were done with my Outlines Acrylic paints on canvas. I had two canvasses 25cm square (10 inches) which were standard depth and one deep sided canvas 20cm square (8 inches). I painted the sides so they can be displayed without a frame.
The fresh daffodils in the jug that inspired this burst of creativity lasted for days. They were scented and the scent filled the room every morning.