Breakdown on a Hot Summers Day
I made this painting for a card I sent to the AA in the hope it would reach the patrol man who rescued us.
The day started well; I went in my van to collect John after he cycled accross Dartmoor and camped overnight. We met at the edge of the moor where we planned to continue on a good outing for me, crossing the moor and enjoying the drive.
It was not to be. Dartmoor is Very hilly. The first steep hill did for the automatic gearbox on my old van. It just stopped, would not move in a very narrow winding lane. It was so narrow that the hedges touched both sides. We could not stay there so, with John directing me from the back to anticipate the corners, I gingerly reversed all the way down to the last junction, where I was able to park on the level.
Stuck in the Countryside
The van would not go forwards and there we were, stuck in the middle of the countryside.
I had a mobile signal so after some discussion and a look at our Ordnance Survey map, I called the AA and, with the help of a nearby road sign and the map, was able to pinpoint our position. It was a very hot weekend and everyone was breaking down, and the wait would be several hours.
It was beautiful. We did have to get home somehow but it was not the worst place to be. We were parked in the shade with cows in a field in the distance, a clear babbling stream nearby, and John's little stove to make coffee.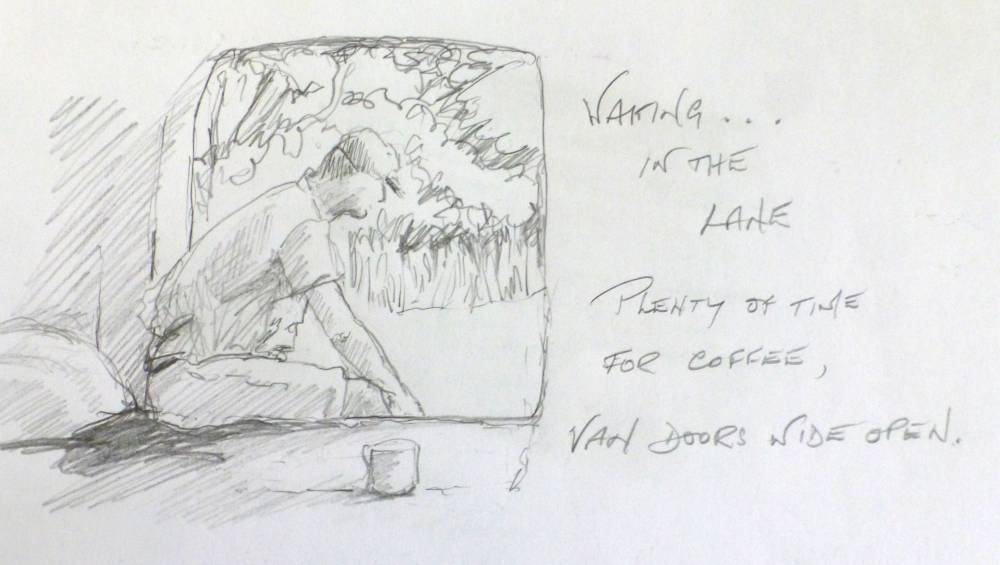 I regretted not making sandwiches for the day, but hey ho, you can't have everything!
Waiting for Rescue
We settled in to wait. I sketched, we talked, we dozed. The stream babbled and the birds sang. Had it not been for our anxious situation we might have been in heaven.
At last the yellow van came into view with the most helpful and caring patrol man you could wish for.
A look under the bonnet, some poking around and checking underneath ensued; they have to try to get you moving, but it was obvious that my auto box was beyond roadside repair and the van would have to go to a specialist.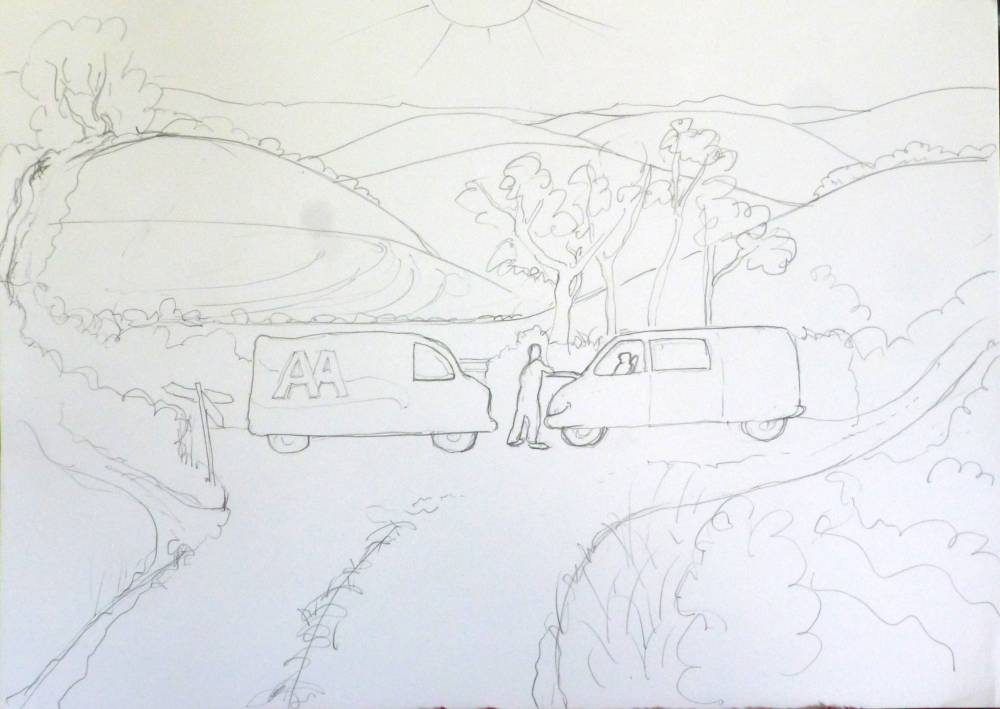 Luckily I knew one in Exeter. I couldn't remember the name but a guessing game with Steve (the patrol man's name was on his shirt) looking up possible garages came up with the right one! How to get the van there? The lane was too small for a rescue truck, and what about John's bicycle that was in the back of my van?!
Stage One, Going Home
After much discussion, Steve came up with a solution. He proposed to tow us to a safe place, a service station on the main road, where he would call a taxi for me and from where, at John's own suggestion, he could cycle the rest of the way home, solving the bike dillemma.
The van would be properly hitched up to take it the rest of the way to Exeter.
Steve would wait with me for the taxi and make sure I was safe. I protested that I would be fine, but he would have none of it.
We agreed, were towed out to the main road and then it was not far to the Service station. Taking a newly-filled bottle of water and leaving his camping gear with me, John set off on his bike because it would take some hours to make the journey, and I sat on a lump of granite to wait. Steve set about hitching up the van to his, with the front wheels off the ground.
I enjoyed watching the procedure, which was complicated but neat and looked very safe.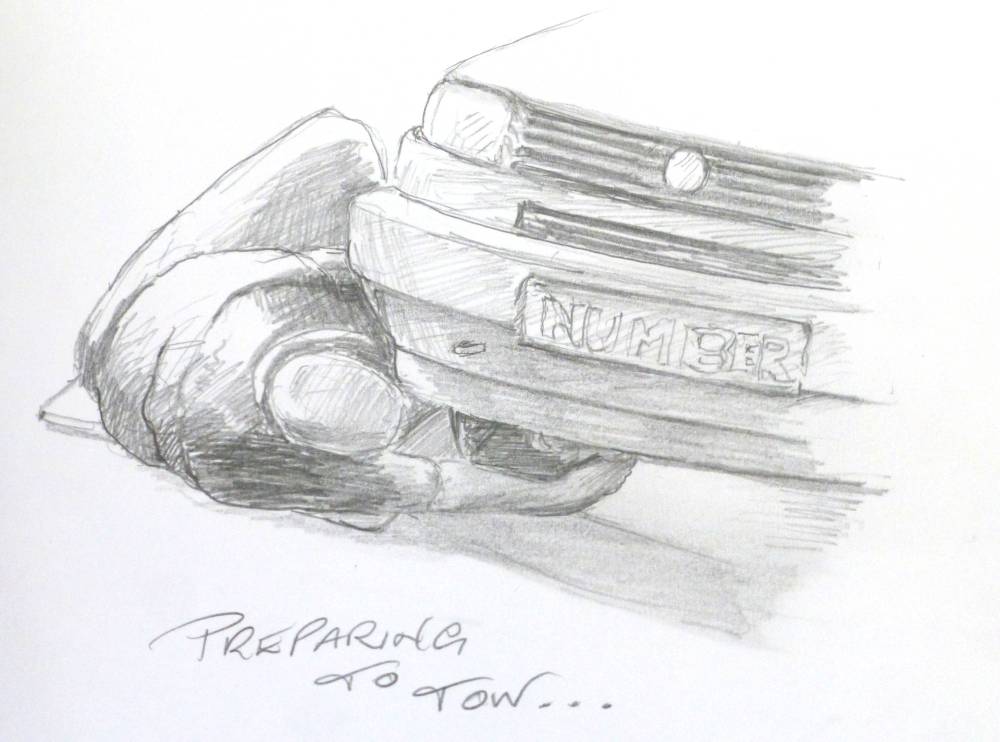 When it was ready, we waited, and waited. The taxi arrived at last and the posh new car whisked me away home. We saw John about six miles from home and he arrived home some twenty minutes later.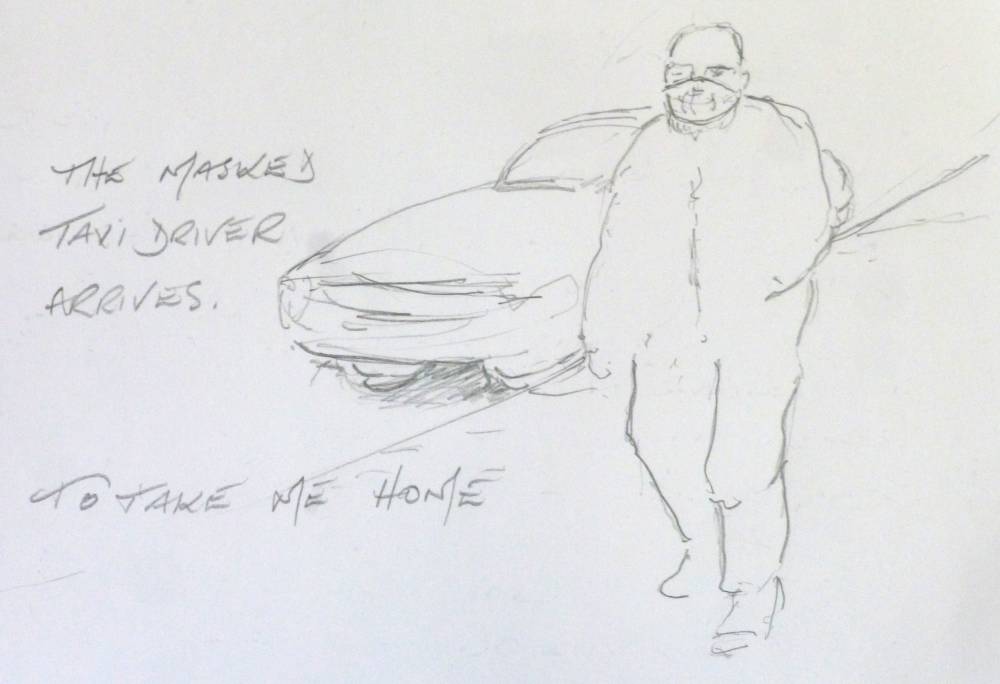 Home Safely
Another hour and a half went by before I received a text to say my van was on the forecourt of the specialist garage. AA Steve had had a long hot day's work and remained cool, calm and kind to me, madame want-to-know-all. I must have been quite annoying at times.
I'm very grateful.
I painted the picture and made the 'thank you' card for Steve and I hope he will get it. Here it is, parked where the van should be, on the drive at home.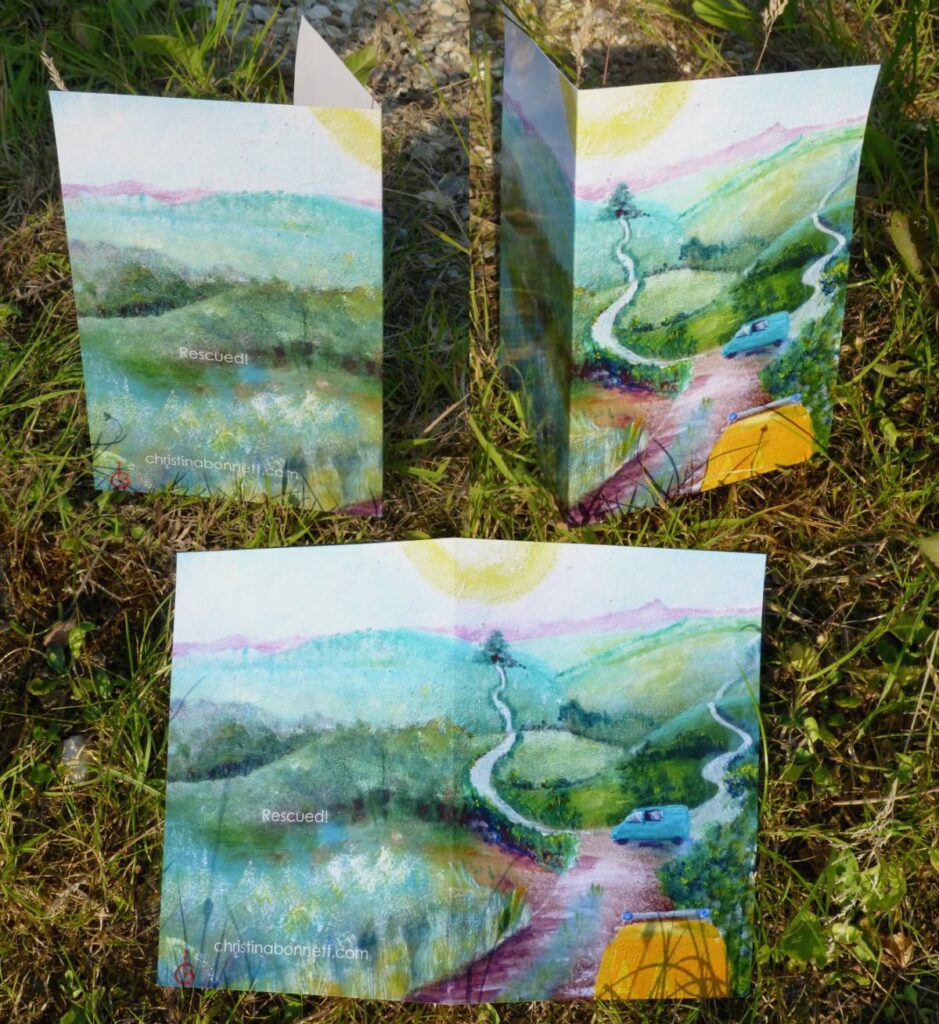 You can see other cards I have made from my artwork here
The van was left on the garage forecourt without their knowledge because it was the weekend and no-one was there.
When I phoned to apologise and to ask if they could fix it, they said it would be some time before they could look at it as they were very busy, but would do so as soon as they could.
As I write, I still don't know whether it can be fixed. Will I ever get my super old van back?
Update: No….. my van is beyond repair – so old – no spares to be found.
I thought this would have a happier ending – sorry, that will have to wait. I can't think what can replace it, or how it can happen.