I have a few greeting cards in the Gallery on this website but now I have made a whole lot more! I have been busy making cards from paintings that have never been on any website online, it's really quite exciting. Among the new card designs are brand new works as well as paintings done many years ago.
Over the years I have painted individual birthday cards for a few friends and family and nearly always make a card each Christmas for all of them. This year, I made a series of seasonal cards that can be sent to anyone in winter, whether or not they celebrate Christmas. All these cards feature a drawing of a holly sprig and have part of a painting filling the background. So far for 2022, I have published six with paintings of places in Clapham, South London. This one is Holly over Long Pond in autumn.
I love receiving cards and I used to sell several cards featuring my paintings at the old shop in Clapham. They were very popular, especially the local Clapham scenes. Some of those designs are being resurrected, but new ones have been added and more to come.
I'm happy to say that my cards are the first to be offered for sale at Outlines Online Gallery. You can See the cards here (links open in a new window). They will be soon be sharing the area with cards by Fina Conté, an artist who makes colourful abstract paintings.
Sets and Multiple Packs
Outlines separates some of the designs so that multiples of the same design can be ordered and others are grouped into sets of cards in packs of several designs. This card of the Clapham Common clocktower is one of the cards for sale both on its own, and as part of a set of the three Clapham Scenes I have as prints here .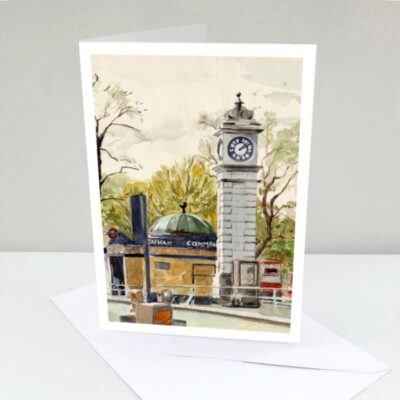 Two of the sets are 'Summer Flowers' and 'Autumn Fruit' which were painted in the garden during a hot spell on tiny canvasses – this is two of the fruit paintings next to a jar of brushes.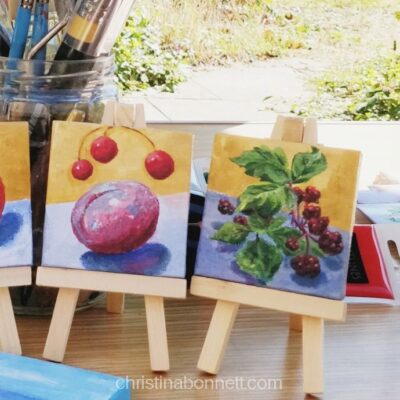 The life-paintings are grouped in this way and here is one from the set of female nudes.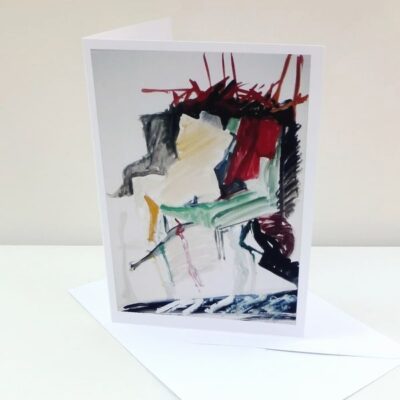 A taste of the greeting cards is all I can provide here and the list is growing so, if you would like to see more, have a look at them on Outlines Gallery's website.
You might find just the right card for an up-coming occasion!