Custom Print Dress Five Cockerel paintings
Video showing the printed dress and me wearing it – I was so pleased!
It shows a pretty young woman wearing a different print and some shots of the manufacturing process as well.
Get your Custom Made Cockerel Dress here!
(The link takes you to the product in my shop at GalleryCB)
Watercolour Sketches
Someone asked me how to paint a cockerel in watercolour and naturally I said it could be approached in any number of ways.
Seeing her face fall, I added hastily "well I would start with some simple studies of different breeds, I'll show you!".
With that, the visit was over and I had promised a demo!
I knew I would have to either go and see live roosters or find some pictures online.
The former was not practical except for one loud fellow that lived just down the road whose raucous crowing could be heard every morning.
He would not let me near, but I did have a go.
Finding photos and old illustrations was not too difficult and I soon had some ideas for cockerels strutting and feeding.
I made simple sketches in watercolour hoping to catch the essence of those magnificent birds without going into detail.
All were on one big sheet of paper, though not carefully placed.
It was only later that I thought of arranging them together in one print.
And here they are!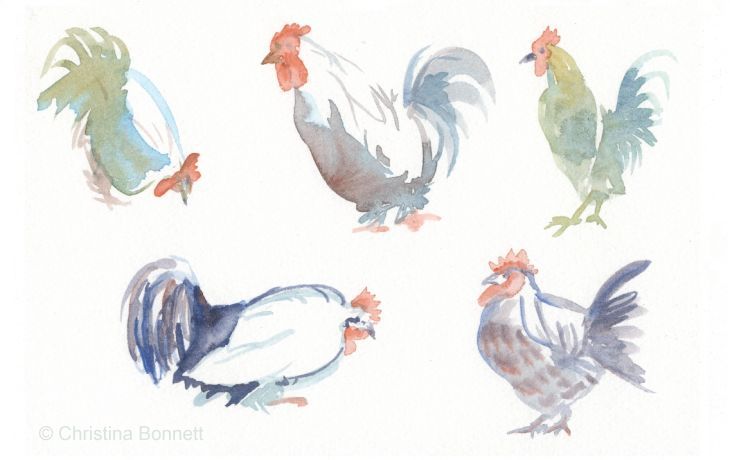 Designing for the Dress
Well the dress came much later. I found this skater dress with a full skirt cut round and no gathering at the waist.
Just my style! I can't wear tight skirts because the hardware I wear on my leg looks awful poking out.
It's a good idea to order a sample of any product you want sell, and put your name to.
I needed a design that would test the subtlety of the printing and that would make a good all-over pattern.
The cockerel sketches came to mind, and I thought I would quite like a pale dress.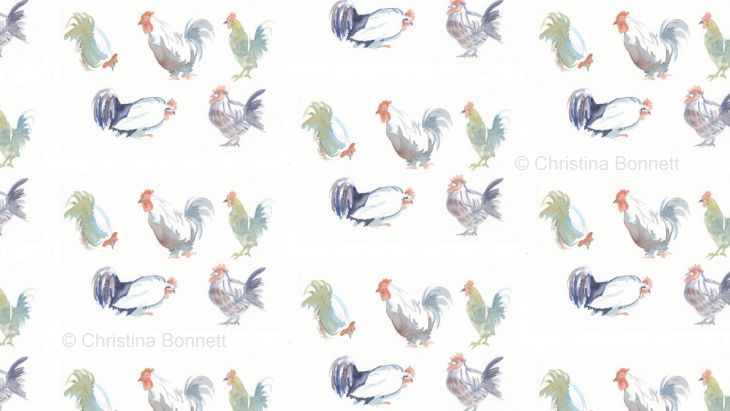 Ordering a Sample Custom Dress
I made the high resolution image, arranged it on the pattern so that it would work for any size and ordered my sample.
Each dress is printed and hand made to order so I expected a bit of a wait, but it was only five days later that the small parcel came!
I was very excited. I opened it up and put it on, over my black tights and long-sleeved vest. I went straight outside asking John to bring my camera.
Brr, it was cold and windy but we stayed there long enough to take some shots. It started to rain and we dashed for cover.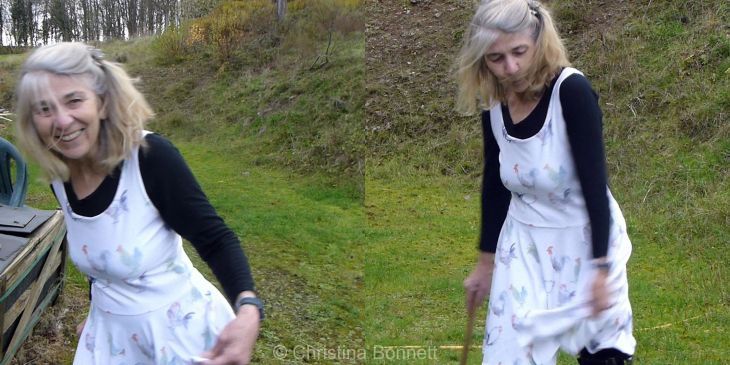 Thoughts on the Finished Product.
I am pleased with the reproduction of the watercolours. They have turned out soft and pretty – I was afraid the colours would turn out too bright and brash.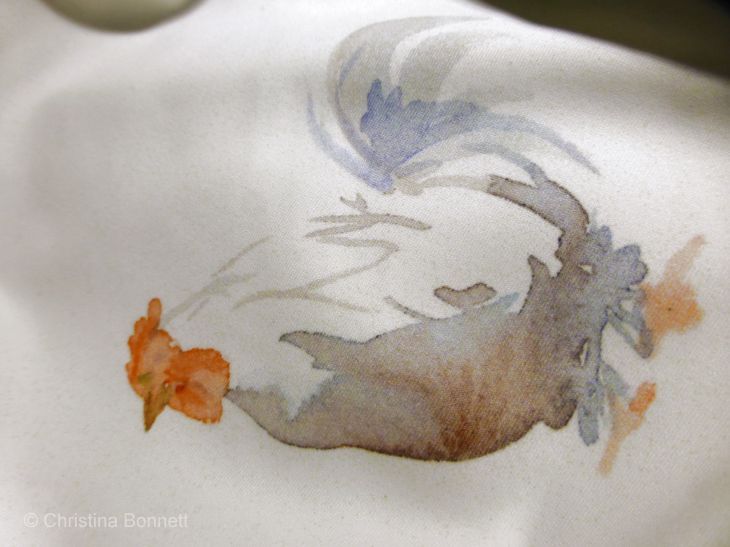 I suppose I could have made them smaller as there is a lot of white but I was happy that a complete set of five appear on the top front and back.
I like the way the pattern works all around the skirt.
I love the feel of the dress, it hangs well and swings beautifully. The fabric has a bit of weight to it and slides without sticking.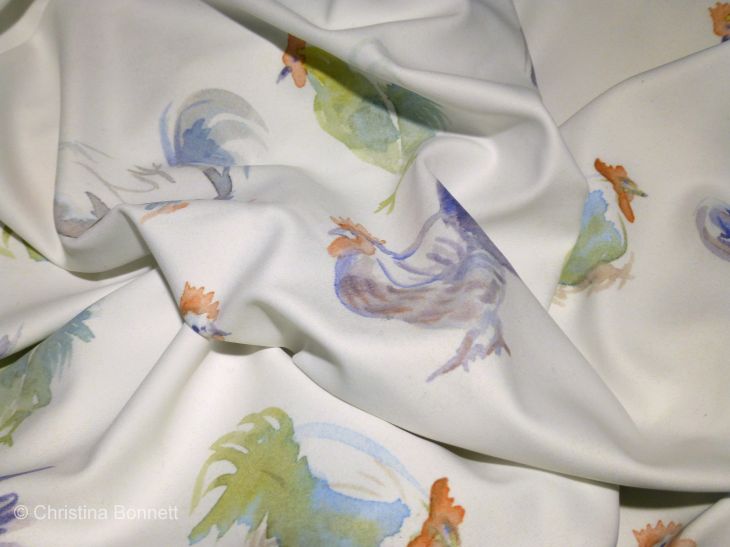 It does not cling to my tights.
I gave it a hard squeeze and it recovered well, the creases dropping out in no time.
Hey! I almost forgot – I had to dream up the label on the spot. What do you think?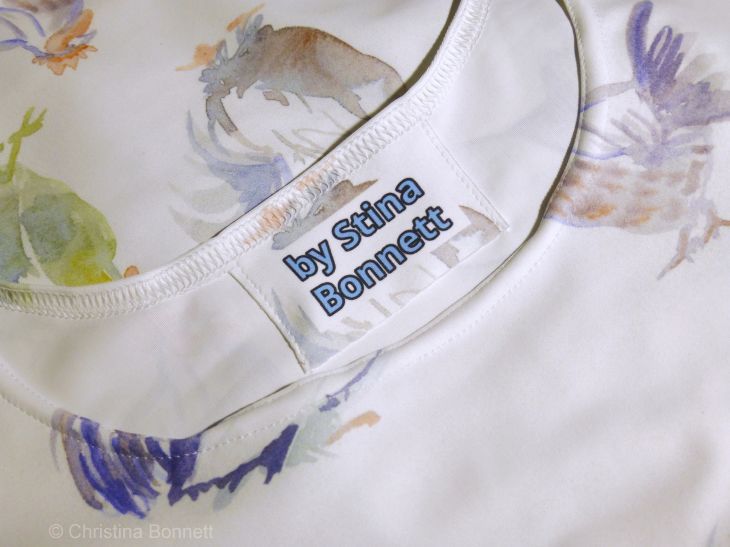 A simple 'by Stina Bonnett' seems enough to me. The 'washing and care' label is on the inside seam of the skirt and shows the size 'M'.
You can order the custom dress in your size at my online shop,
Cockerels Skater Dress at Gallery CB
The good news is that there is a skater skirt available too, and I will think of a bold design with strong colours for that. I could do with a bright skirt for a change. When I get my sample I'll model it for you; I hope to catch some brighter weather.