Tractor Painting.
This Grey Fergie Tractor was parked up on the nearby hard stand for a few days undergoing a spot of TLC. The weather was fine and the ground firm so I took the opportunity to paint it in relative comfort.
It was within easy reach and it was good to be out there with an easel, a box of paints and even a chair.
Using acrylic paint I sketched directly on the canvas and soon had enough detail to continue the painting indoors.
Here's a short video of the progress of the painting through to completion.
Stages of the Tractor painting.
Get your print of this Little Grey Fergie painting here!
(The link takes you to the product in my shop at GalleryCB)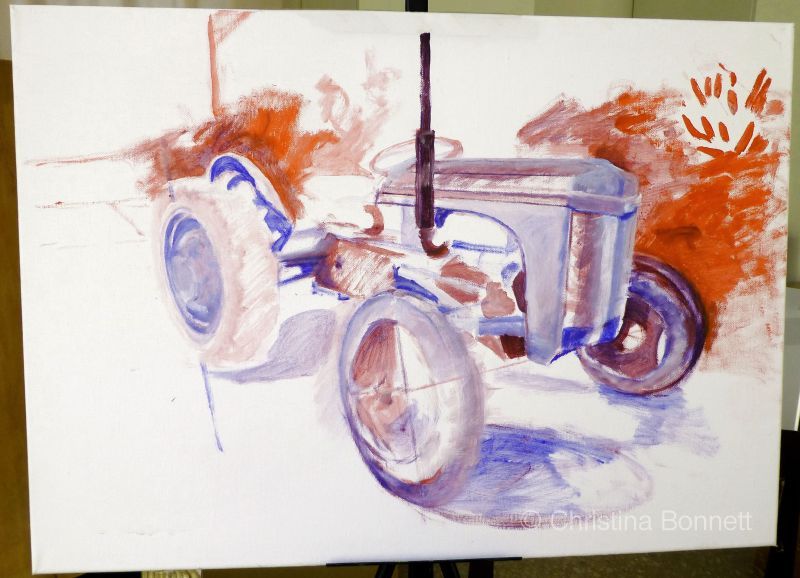 Painting grey fergie first outdoor sketch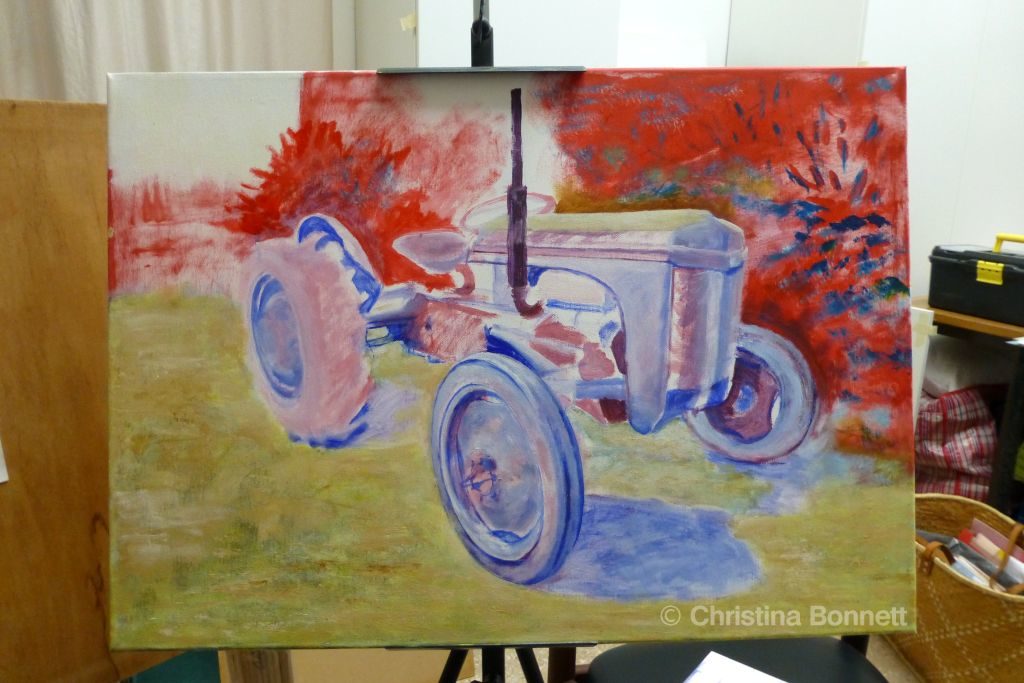 Sketching colours and background in the Studio with the painting on easel
Why Paint a Picture of a Tractor?
I am attracted to vehicles, machinery and tools both from an aesthetic viewpoint and for their usefulness. I enjoy painting pictures of them and even paint the things themselves! I custom-painted my old van many years ago and since then I have painted a caravan and a kayak.
We use a Ferguson TED20 to cut the grass, haul things about and have even ploughed a small area in the field to plant veg. I say 'we' tongue in cheek. I haven't driven it, but I enjoy watching John do so… It's fun too! We have used the Fergie to haul a flat trailer with everything needed for a day-long picnic at the bottom of the big field.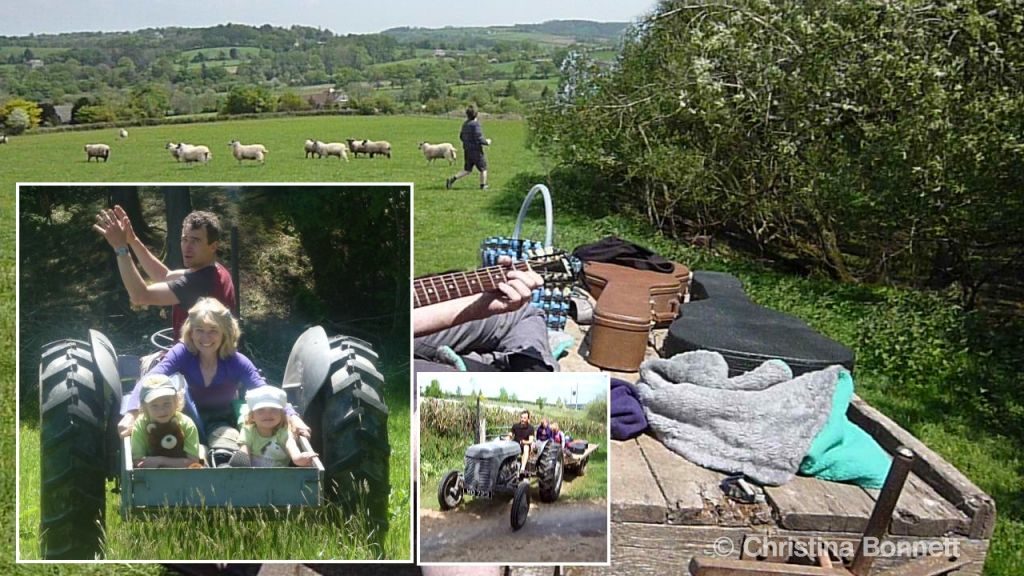 Photo collage of the picnic trailer and transport box
About This Small Ferguson Tractor
We certainly don't need a big modern tractor, we are not farmers, but we do have some maintenance work to do on the land around our house. Our little tractor dating back to 1953 fits the bill perfectly and is a classic. The Ferguson Little Grey Fergie has a large following of collectors and enthusiasts and although we are not fanatics, our enthusiasm for it grows the more we learn about it and what it can achieve, even today.
After watching videos of the tractor in action John ploughed a small area to plant potatos. We thought it was small but it produced such a big crop that even I, a big fan of potatoes, couldn't eat them all! Since then we have not been so ambitious.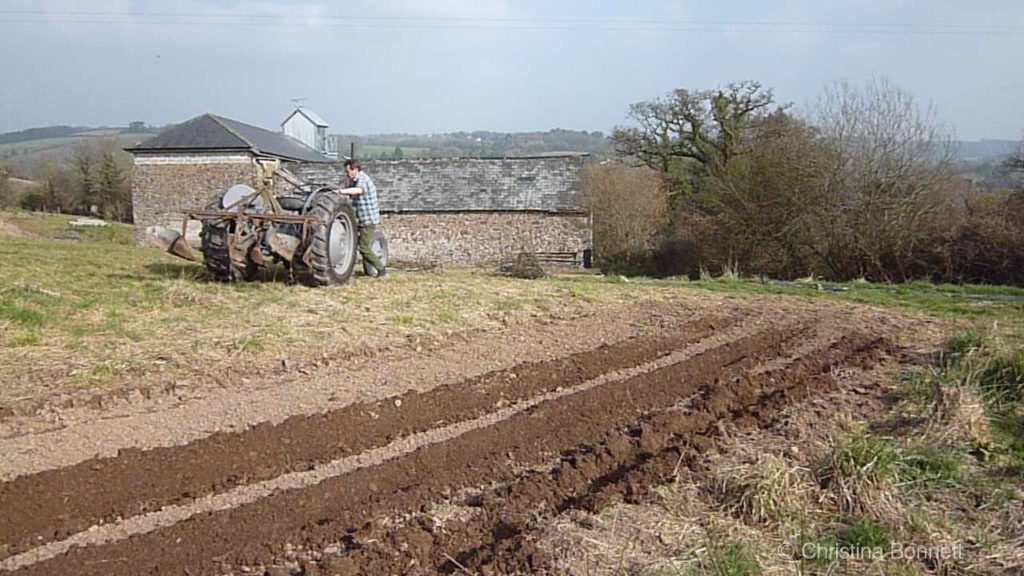 Checking the Tractor by ploughed field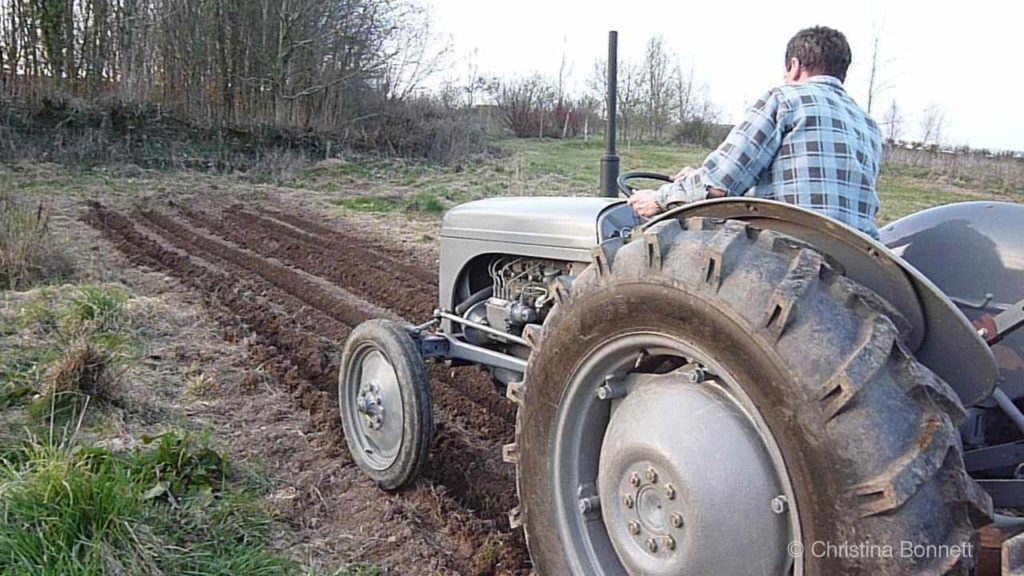 Tractor ploughing field on the next pass
Ferguson TE20 Tractor History
Harry Ferguson's Little Grey Fergie was manufactured for ten years and there were several models during that time; ours is the TEF20, The diesel version of the TED20 standard TVO engine.
Feruguson later became Massey Ferguson and the company is still producing tractors today.
You can read more about the Ferguson TE20 here.
2016 marked the 70th anniversary of the first production model of the Ferguson TE20 and inspired the 'Tractors – From Factory to Field' exhibition at Coventry Transport Museum and the public display of the Daniel Massey Bronze Sculpture at the City's Herbert Museum and Art Gallery.
You Can Own this Tractor Print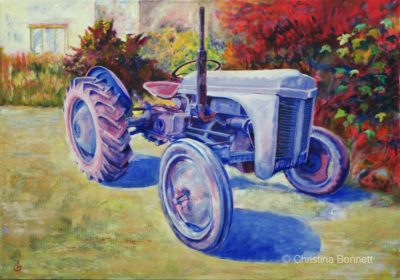 The original acrylic painting on canvas is sold, but a Giclée print of my tractor painting is available. Click here for details of the Fergie print.