Landscape in Acrylics
Brixham Art Society invited me to give a painting demonstration for their members and guests in June at the Brixham Rugby Club where they use a big room for their meetings.
The event was entitled 'A Semi-abstract Landscape in Acrylics'. It was not too specific and allowed for the choice of subject to be fairly wide.
It's not my habit to give live demonstrations and as the date drew near I got more and more nervous, but my sister said "Enjoy yourself and then the audience will enjoy it too" and a kind friend, Robbie Thomas, said, "Just do your stokes and talk through it and it will be like a magician with a wand".
The organisers were very helpful setting up a table and placing the easel. They were encouraging and welcoming which put me at ease but then gave me such a glowing introduction I confess I began to feel worried again. However, the Brixham artists were so warm and enthusiastic; they made it easy to forget my fears and get on with the job.
Faced with a room full of strangers in I kept the advice in mind and was soon absorbed in the process.
I was keen to point out that mine was not the 'right way' to make such a painting nor my 'usual way' but simply 'one way' of approaching painting a landscape.
Sketch the Scene
Since I was not outdoors, I took several sketches along.
This is the sketch I used for my demonstration: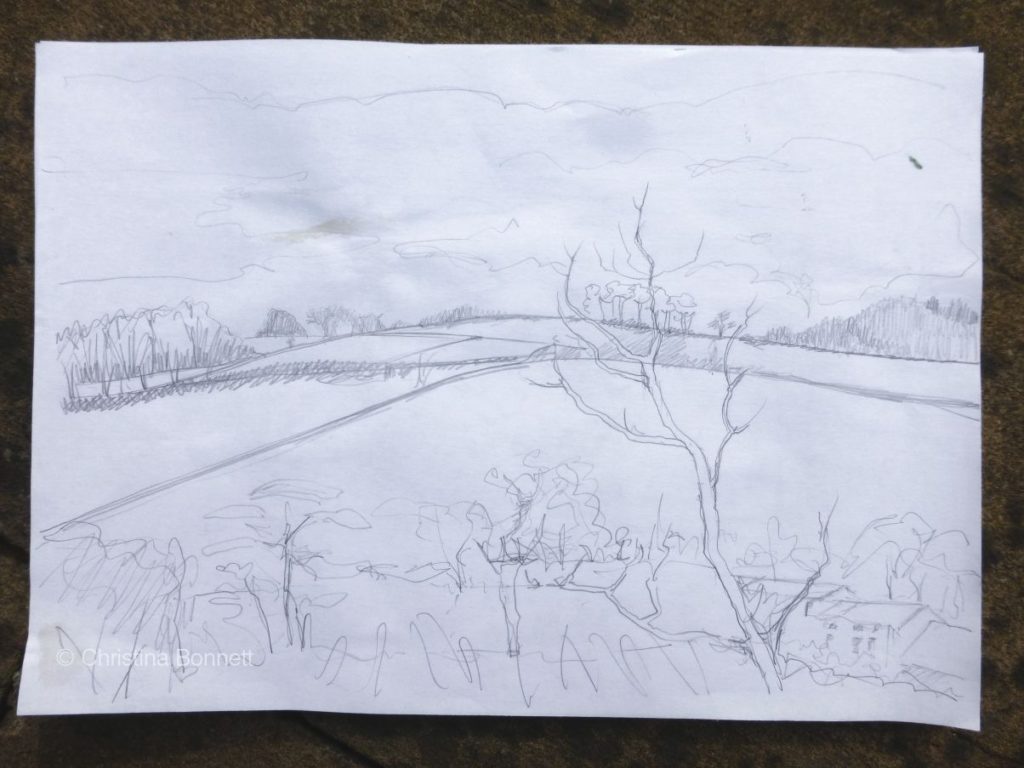 I had several drawings because I was not certain which I would use. I also had smaller pieces of prepared card to play with, should drying time be needed.
During the drying times, which were not long, I showed some quick strokes that changed the look and later showed how PVA wood glue can be used with acrylics to make transparent layers.
This rough painting of a field was changed dramatically by a red glaze.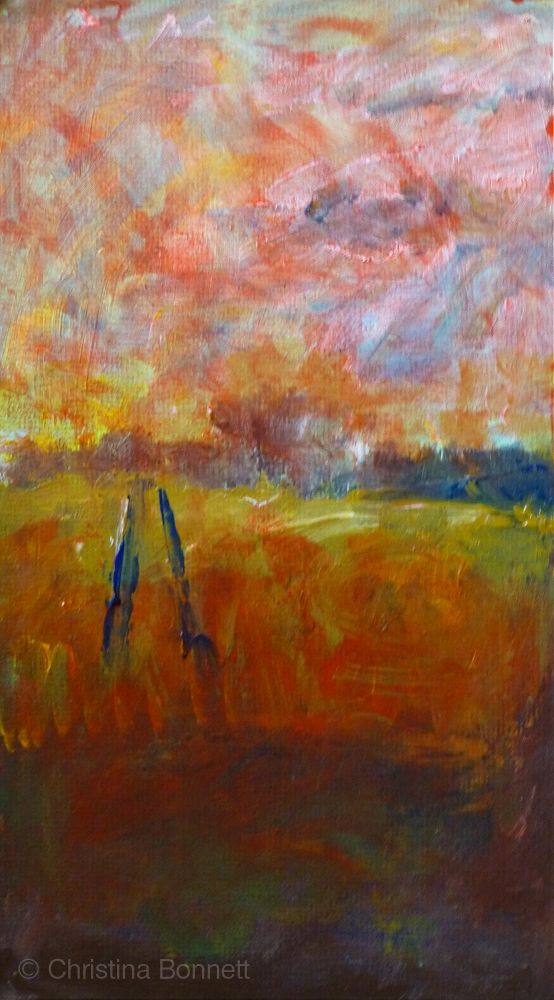 Covering the Canvas
This is a small canvas I prepared earlier. It shows how underpainting can be used to lay out a composition while providing a ground colour that will show through any less solid strokes and transparent layers.

The Demo Painting
Here is a picture (same as the large one above) showing the acrylic landscape at the end of the demonstration.
I do not have a record of the painting stages and the painting is not finished. I feel it is lacking something and I will return to it in the studio. Perhaps that will be the subject of another article, with stages!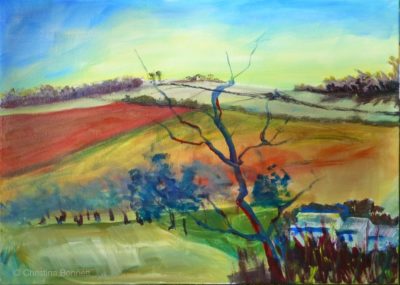 About Abstract Art
Even though the subject is neither a topographical record nor a true representation of the real thing, an abstract is derived from something observed or felt. So it is for me, at any rate.
According to the Tate Gallery
Abstract art is art that does not attempt to represent an accurate depiction of a visual reality but instead use shapes, colours, forms and gestural marks to achieve its effect.
I want to thank Ernie Lee for inviting me, and persuading me to agree to giving a demonstration. Unfortunately he was unable to attend, and I did not meet him.
I would also like to extend a big Thank You to the artists who came, asked questions, commented and kept quiet when necessary – and then applauded loudly at the end.
They made my first 'live' painting demonstration become a great pleasure that will stay with me for a long time.