The hot weeks of Summer this year finally did for my garden table. It was already on the way out because – well, I left it out all year without any protection, and small cracks in the melamine top had allowed water into the chipboard base causing it to 'blow' around the edges.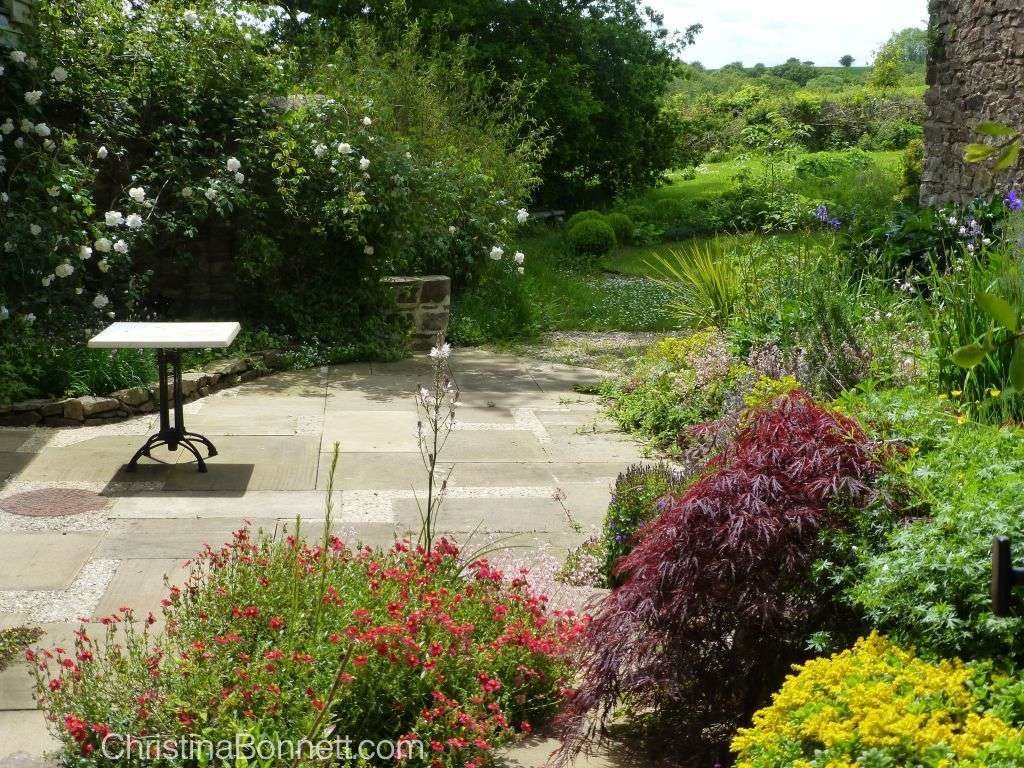 This is a photograph of the garden outside my studio, basking in the afternoon sun.
One day I noticed the surface was beginning to lift and, being me, I started to pick at it, pulling off the loose bits. The remainder was still well stuck down and it was going to be too much of a job to get all the melamine off. I covered it to keep the rain off and abandoned it.
Looking for Ideas
September came, I was looking at ideas for making examples for using Outlines acrylic paints and remembered the table. Why not paint it? The paint is tough and I could just do some colours and textures to seal it.
When I came to look at the table top the broken edges of the melamine suggested a seashore, so I painted the exposed chipboard roughly with greens and blues making aquamarine areas, and left it overnight. I fully intended to just have two areas of colour but when I looked at it again I began thinking about times at the seaside and ideas started jumping into my head.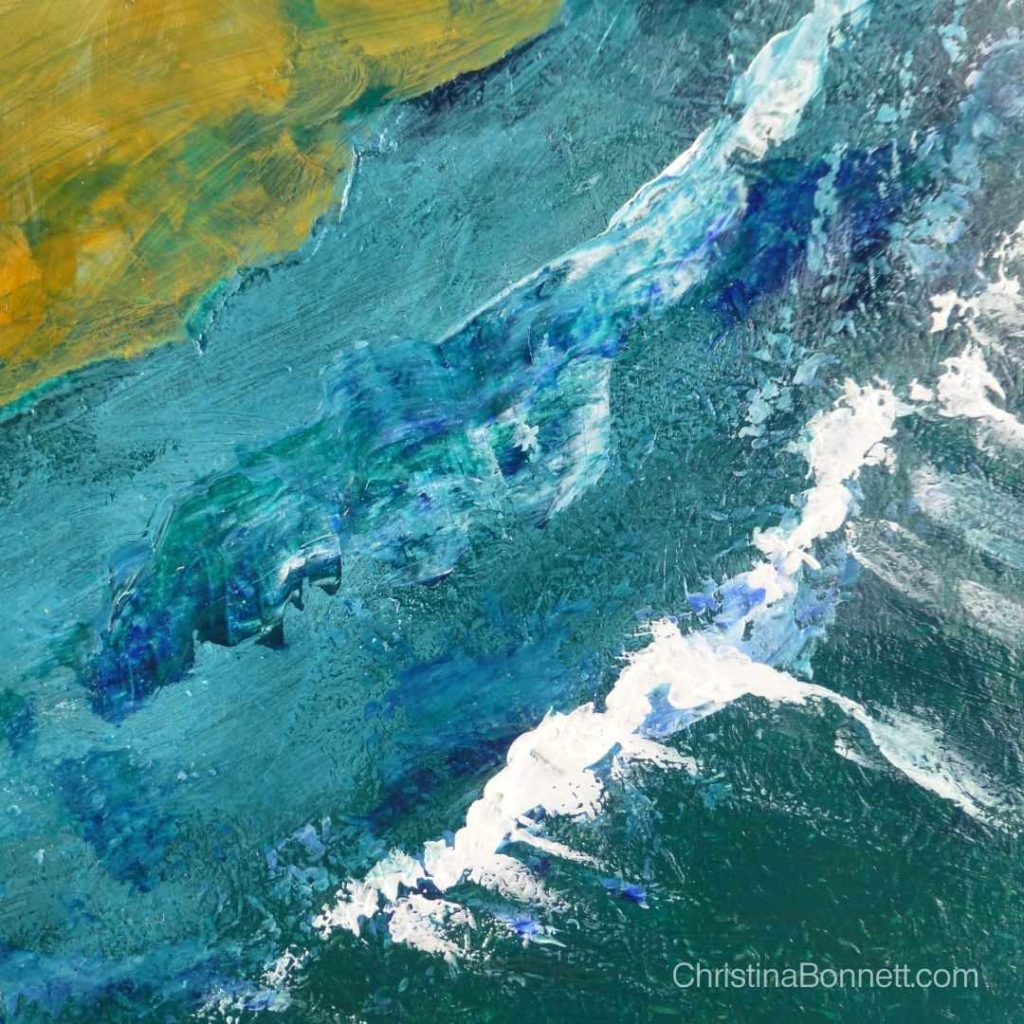 Detail  of the Sea
When Fixing something becomes a Painting – Tabletop Rescue
I rejected most of the ideas, wanting it to stay simple, but I couldn't resist a sunshade or two and perhaps a promenade on the opposite corner would would balance the composition…
I just started painting with those ideas in mind. The Sunshades became three stylized circles, I added a shadow to each. The promenade grew some steps going down to the sand. I started to think of railings and posts. Too fussy, I decided. It was a question of 'when to stop'. The hours went by and suddenly it was approaching suppertime.
The refurbishment of a garden table had turned into a painting of a beach with short shadows and no-one there. An empty Beach.
Coming out of 'painting mode' the title came to me…
Lunchtime On The Beach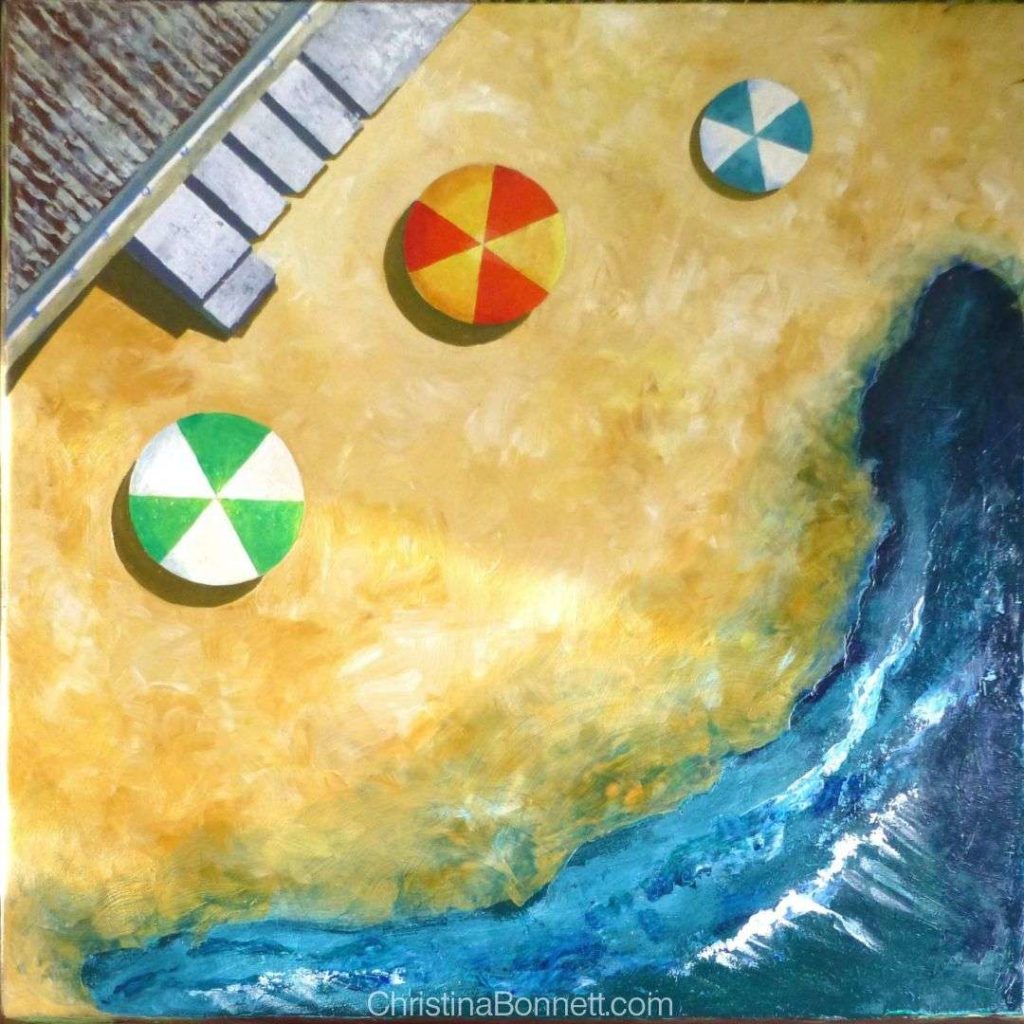 The question is: Do I take it off the table and get, or make, a replacement top?
I don't know. Perhaps I'll test its resilience to the weather and and see how it stands up to being in use as a table first. I think I'll keep it indoors for a while and mull it over.
The table top is about 1 inch (2.5cm) thick, dense chipboard, pretty heavy and measures 70c x 70cm so it would be a challenge to hang and would need hangers screwed to the wall.
This picture shows the painted top and Original table with cast iron legs is shown below.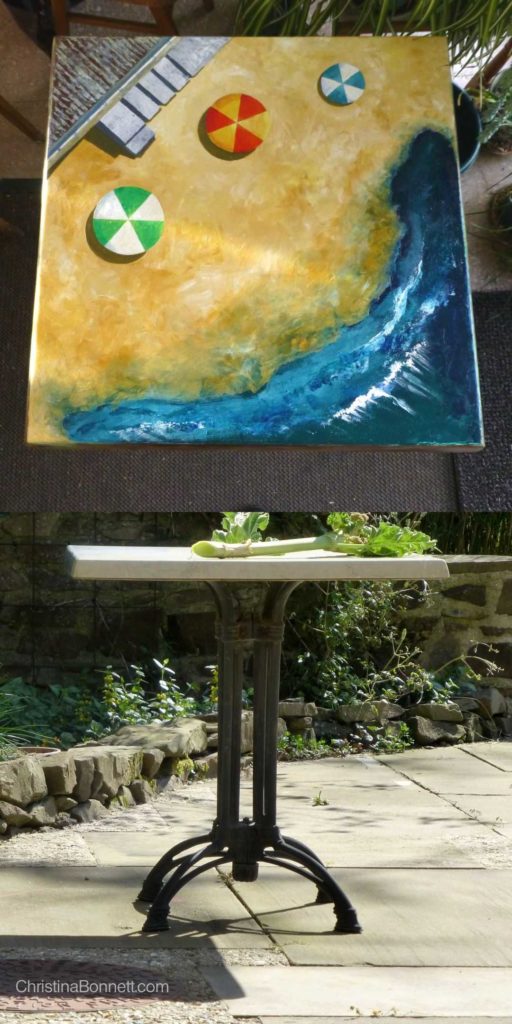 It will be interesting to see what you, my readers think. Should it remain as a part of the outdoor furniture? Let me know in the comments below.