I am happy to announce that I'm taking part in the Devon Open Studios event this year. Organised by the Devon Artist Network, this is a great opportunity for art lovers to visit and meet artists making a huge variety of artworks and practises in their own studios or in group Venues. There are painters, printmakers, designers sculptors, potters, jewellers and more.
Update: You came! You can read my thanks and thoughts on the show here.
Opens in a new tab
Come and see me and my work in my studio at Outlines.
Opening times September 2018:
We are open on these days from 10am to 5 pm
Saturday Sept 8
Sunday Sept 10
Monday Sept 11
Friday Sept 14
Saturday Sept 15
Sunday Sept 16
Monday Sept 17
Friday Sept 21
Saturday Sept 22
Sunday Sept 23
If these days are impossible for you I may be able to make an appointment to suit you better during the show. The studio has be re-organised for the open so do try to come During the event which runs from 8th to 23rd September.
To contact me please click here.
Please find address and directions below.
Artists at Outlines Open Studio Venue 6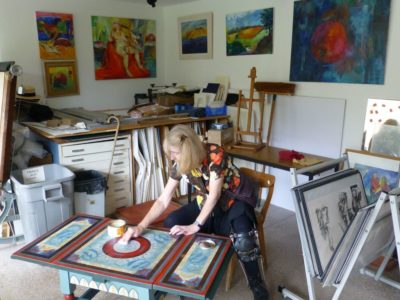 Christina Bonnett  is showing paintings and prints and examples of painted furniture. Currently working on different ways of using Acrylic paints.
Also participating in the open studios is Christophe Szpajdel, known as 'The Lord of the Logos'. His opening times are also as above. If you wish to confirm that he will be here when you visit you can contact him here:
https://www.lordofthelogos.com/
Christophe does not have a studio suitable for opening to the public so I offered to share mine. Has has a lot of work to show, and constantly makes more so we made extra display screens and cleared the decks for his use.
Artists can have an anxious time on the run-up to open events. We all want to show our work and the process of making it, if we can. Christophe is no exception and he has to come all the way from Exeter, where he lives, to bring his work and art materials, set it up and to be here on the open days.
In spite of the distance, he says he is happy to be here and delights in all the surrounding countryside has to offer. Trees and nature influence much of his work and there we find a connection between our very different types of art.
DOA Guide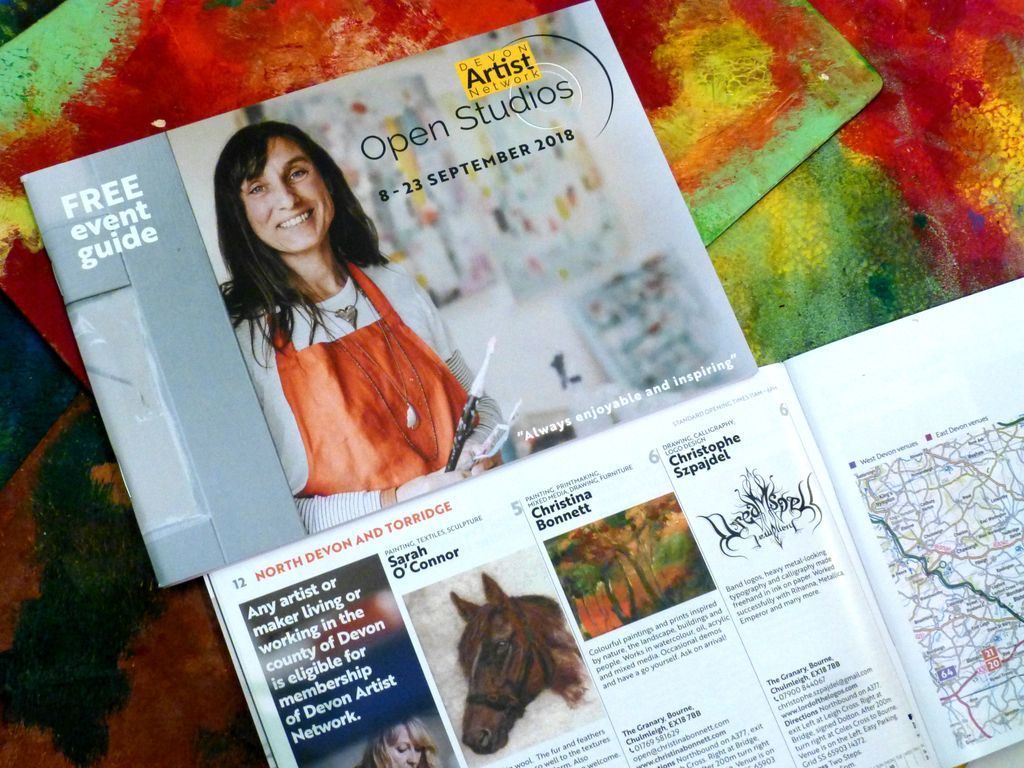 We have Event guides here, so if you visit us first and have no knowledge of all the wonderful artists living and working in Devon, you can pick up a guide which lists all 368 artists showing in 151 Venues.
You can find me and more artists on the DAN site here: https://www.devonartistnetwork.co.uk/
Where: Venue 6
The Studio address is:
Outlines
The Granary, Bourne
EX18 7BB
Travel Details:
There is No Public Transport nearby, however there is ample parking space.
Disabled Access: For those who can walk, there are just two steps and a rather steep slope. Fine once you are inside, and you can sit down when needed.
Directions: Northbound on A377. Left at Leigh Cross towards Bridge Reeve.
Right at the Bridge, signed Dolton. After 200m Turn Right at Coles Cross to Bourne. The Granary is on the Left.
This a Child friendly Venue – Children must be accompanied by an adult.
Dogs are welcome when kept on a lead.
Christophe Szpajdel and I, Christina Bonnett look forward to welcoming you and your friends to our 'Open' at Outlines.
Please share this post to friends and family on your preferred social account. Thanks!