Devon Open Studios 2018 Visitors and Reactions
Thank You
My thanks to all the visitors who came to the studio to see my work. It was a great pleasure to see familiar faces and to meet new people. Here are some thoughts on the show.
Enquiring Minds
Talking about my work and responding to questions reveals aspects of it I had not thought about and is a kind of discovery, even for me. The realisation that the treatment of a subject can raise questions is inspiring and can reveal new avenues I could explore.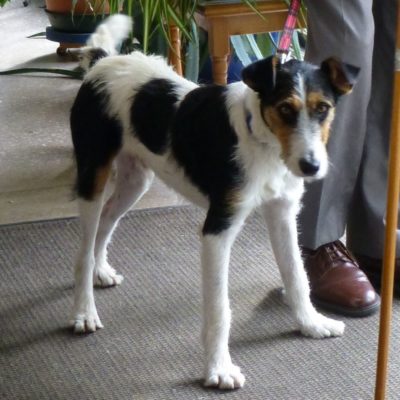 It's always a bit scary at first, as I think I don't know what I can say about the work. Then you find out that it can be intimidating for the visitor to think of something to say too. What a funny lot we are – scared to open our mouths for fear of appearing silly. All that dissipates when we relax and enjoy the friendly atmosphere. Greeting a visiting dog helps a lot!
What Did Visitors see?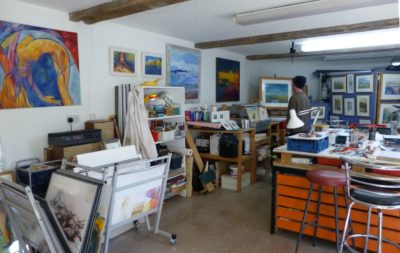 My work covers a variety of subjects and some visitors were drawn to particular pieces because the subject matter held interest for them. We'd find ourselves talking about gardening, exploring the coast, the people in the pictures or something else entirely. Some wanted the story behind the picture. Others were more interested in techniques; how the pieces were made, which materials I used and how I handle the material. Even people who do not themselves paint are often interested in the process.
My visiting artist's work proved equally fascinating to our visitors. Christophe Szpajdel, known as 'Lord of the Logos' had logos for bands and organisations on show, together with a number of calligraphy quotes and sayings. Christophe worked continuously on new works and commissions, all drawn by hand. He was happy to demonstrate how they were produced and to talk about the process.
We have a pile of old broken slate about the place and each day, Christophe chose a piece for his 'quote of the day' which he quickly penned in white. By the end of the Open Studio he had quite a collection and one lucky visitor had a favorite made for her on the spot.
Christophe came on the days we were open by train and bicycle, always cheerful and dedicated, and free with his praise and promotion of me and my work. I was very happy to share the Outlines studio space with him.
Visitor Participation
Although I use watercolour, oil and various sketching materials, having launched my own set of 12 colours under the Outlines brand, my focus recently has been on Acrylics because I have been making pieces to show the versatility of the medium.
I made small demonstration pieces during the show and at least one visitor was inspired by them to take up painting! I particularly enjoy encouraging people to paint so my goal hit bullseye on this occasion.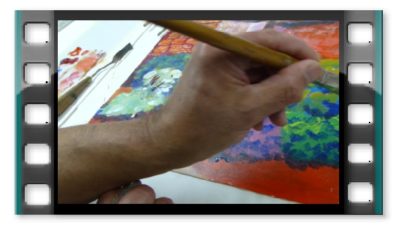 I had paint and card set out for people to use and try their hand, if they wanted to. One visitor was kind enough to allow himself to be photographed and filmed using acrylics for the very first time. I offered tips as they occurred to me while he painted, and he persevered until he had covered the board. It was fun to find that some were keen to have a go and that they would like to have more instruction and tips.
What Next?
I have enjoyed using acrylics for some years, experimenting with the medium and using it on different surfaces. Working instinctively as I do, it will be quite a challenge to analyse my techniques so that I can show people how to achieve similar effects in their own work.
Remembering my own difficulties about what to use and how to use it should help me compile some instruction for absolute beginners, if I can go back that far in my mind. I have begun a series of articles to help aspiring painters.  If you care to share your own questions with me,  please do in the comments below. I'll try to help to find relevant answers.
Credit Where it's Due
I want to extend my thanks to Devon Artist Network for running the Open Studios and producing the illustrated Guide without which many of those who came would not know I existed. As a direct result of being in print I have been invited to give a demonstration next Summer for Brixham Art Society who found me in the guide.
People came from near and far and the extra effort to seek out our venue in the depths of the countryside is much appreciated.
Keeping In Touch
The show is over for this year but if you didn't make it or would like to come again, do keep in touch, join my newsletter mailing list and I look forward to meeting you next year.
You will be kept informed of new developments and future events in case you would like to come another time or to another exhibition.
Links:
Outlines Art Acrylic Paint Tips
Devon Artist Network  (DAN)
Brixham Art Society