Event
Devon Artist Network, also known as DAN, is hosting another exhibition at the Flavel, showcasing the work of some of their members. I am happy to have two paintings in the exhibition.

Taking the Paintings
Delivery day was Monday – a wet but bright day for the journey which was a 2-hour drive through the countryside skirting the edge of Dartmoor. It was very slow through some very winding roads but beautiful to see.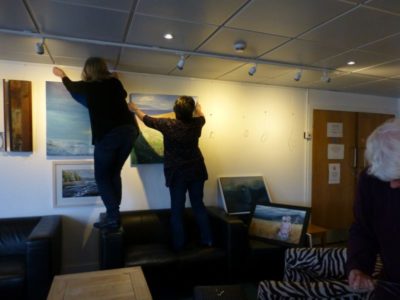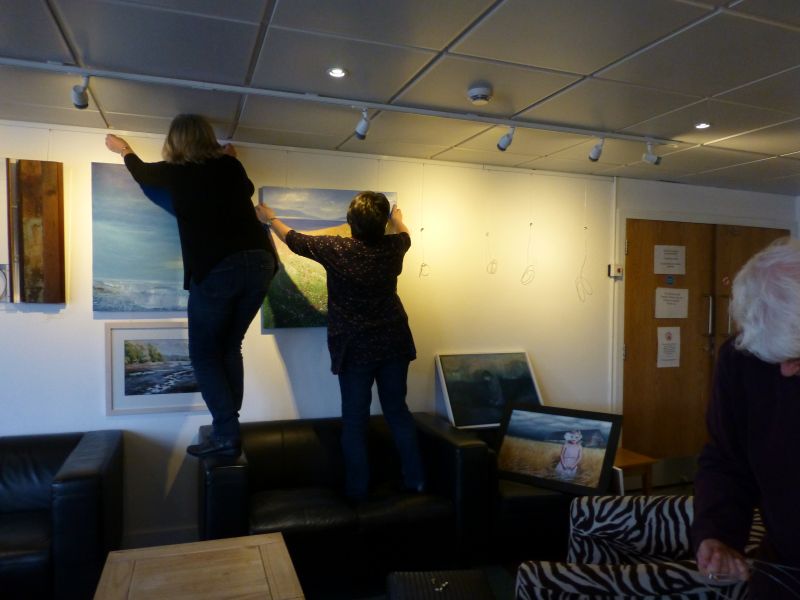 I arrived to find David, the organiser from DAN, needing some help with the hanging. A few other artists were already helping but I joined in too. It was nice to get a feel for the place and to have a change before going home.
I enjoyed meeting a few other artists including Jackie Wills; she makes beautiful waistcoats but she had a picture too "Black Horses on Red One"
The two paintings I am showing are 'Last Rays' and  'Dartmoor Snow'
[huge_it_portfolio id="2″]
Dartmouth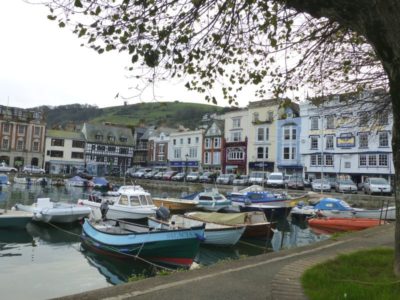 Never having been to Dartmouth before I nipped out to see the harbour and sat awhile on a bench by the little inner harbour near the Arts Centre. What a picturesque place! There were plenty of people about – quite a contrast with my local village.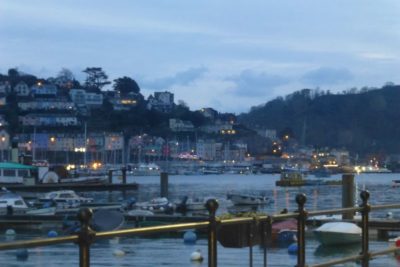 By the time I set off for home  it was almost dark and the lights were twinkling over the water.
Where
Address: Flavel Pl, Dartmouth, Devon TQ6 9ND
Phone:01803 839530
When
The Exhibition runs from Mon 23 Nov 2015 to Sun 06 Dec 2015
The Exhibition Space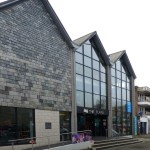 The Flavel Arts Centre is home to a theatre, an art gallery, a cinema and it plays host to an annual comedy festival as well as numerous workshops – for adults and children alike. It's an independent centre where there's something going on all year round and everyone's involved.
The gallery presents regular exhibitions and most of the art is available to buy.
The Flavel Arts Cafe serves snacks, hot meals and drinks to visitors all year round. All areas are suitable for the disabled or those with mobility needs at The Flavel and there is parking nearby.
The Organisers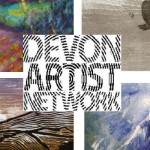 DAN is a county-wide artists' organisation. It is a non-profit making organisation initiating a range of projects across the county including the well established Devon Open Studios (DOS) event that runs annually in September.
About Dartmouth
Dartmouth is a town in Devon, England set on the western bank of the estuary of the River Dart. Its beautiful surroundings and long history make it a popular tourist destination.
You can read more about it on the History of Dartmouth site.
Finally..
If you can make it to the DAN exhibition at the Flavel it would be great to hear whether you liked it. Let me know in the comments below:)