This Open Studio Event is a must for visiting and resident art lovers in North Devon and Exmoor this September.
And I, Christina Bonnett, am part of it!
UPDATE: This year, I am taking part in Devon Open Studios 2018, Click here. (opens in a new window or tab)
What is an Art Trek?
An Art Trek event is organised so that many Artist Studios, Galleries, Art centres and other venues are open at the same time over an easily accessible area. Visitors can plan their trek to visit several artists on the same trip.
It's great fun, sociable and informal with no pressure to buy, although there is always the opportunity to acquire a work of art that may not be obtainable from anywhere else!
Open Studio Events are an exciting way to meet artists, see their studios and learn how the artists make their art. In a relaxed and friendly setting it's easy to ask questions or simply have a chat. You can gain an insight into their work practices and how art is created giving you a greater understanding and appreciation of art in general.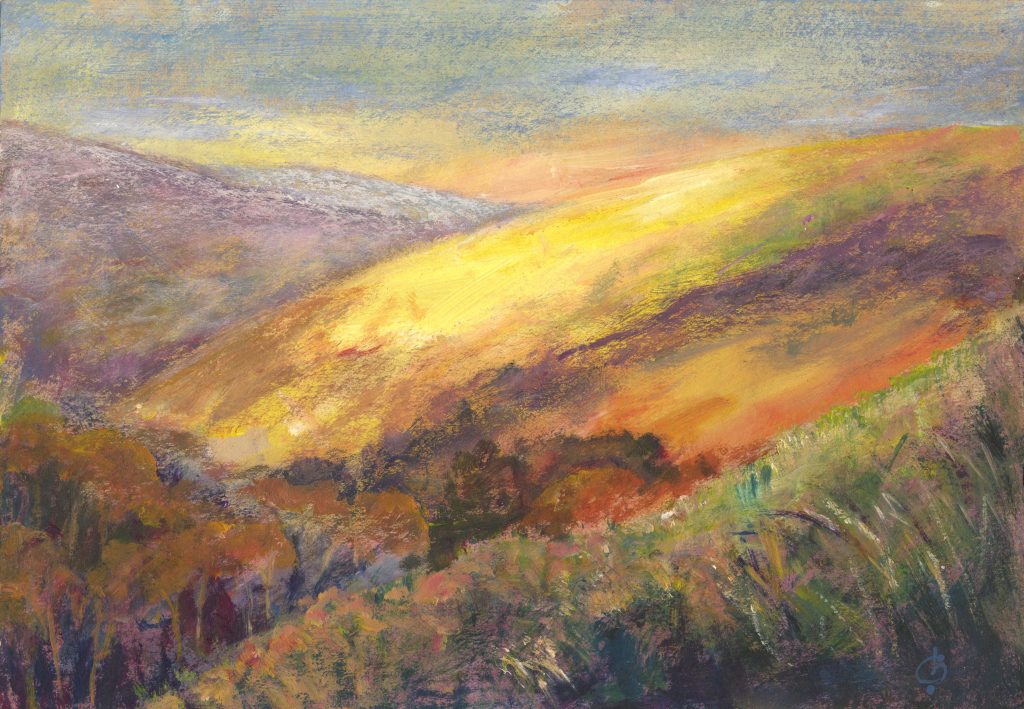 I am very pleased to be taking part in this 2016 Art Trek as, like many artists in rural areas, I live in the depths of the countryside away from bustling art communities. Artists and Art lovers alike will be visiting the venues in my corner of Devon and it will be good to bring attention to the artists here, and make ourselves more visible.
Who should go on an Art Trek?
Why! Everyone of course!
As a collector of art you will have a personal connection with the artworks you own and the information you need to make a choice.
As an artist you will be able to exchange ideas and techniques – it is always inspiring to see other artists work!
As a curator for a gallery or exhibition you can find artists based in Devon you may never have discovered.
I was visited by an entire class of 7-year-old school children from Chulmleigh one year! And you know what? They walked here – a round trip of over six miles! They all wrote to me afterwards with drawings of their own – I know, the teacher told them to do it, but they were not told what to write and draw. I was deeply touched by their letters and still have them.
The Devon Countryside in September
Devon is known for its beautiful country landscape, winding lanes and stunning coastline, the September season is a lovely time to see it. As you visit each artist you will be able to take it all in. The beauty of the area and making personal contact with artists will stay with you a long time.
When Is North Devon Art Trek?
The NDArt Trek Open Studios 2016 event spans three weekends, from Saturday, 10th to Sunday, 25th September, although you will find some artists and venues open weekdays in-between these dates. Some venues also hold special open evenings.
Artists Nearby
Planning on visiting Artists? Art lovers from Mid Devon need not feel left out as several venues are not too far from the borders.
Artists Near Chulmleigh
Christina Bonnett
Jon Lincoln-Gordon
Gaenor Barker
John Hurford
Artists Near Bondleigh
The Sculpture School with Diane Coates and Andrew Sinclair
Celia Olsson
How to Find Out More

This is my page on the NDArtTrek website: Christina Bonnett 2016
For details about North Devon Art Trek 2016 please go to the NDArtTrek website.
Save
Save
Save
Save
Save
Save
Save
Save
Save
Save
Save
Save
Save
Save
Save
Save
Save
Save
Save
Save
Save